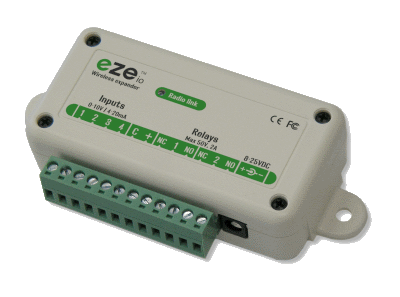 Easily expand the ezeio Controller with additional inputs and outputs using this wireless expansion module. Each input can be configured for 0-10V, 0-5V, 0-30mA, resistance/switched or pulse. In addition to the four inputs, there are also two Form-C relay outputs.
This wireless module is ideal for monitoring free-standing refrigeration units, hard to reach flow sensors or energy meters.
When used in pulse mode, each input has a non-volatile 32-bit counter, and the device will also measure the time between pulses up to 65s with ms resolution.
Features
Four general purpose inputs
Two relay outputs
Up to 300ft range
Less than 0.2W self draw
Easy to mount, connect and configure
Up to 9 expanders per ezeio Controller
Built in non-resettable pulse count registers
External radio link status LED