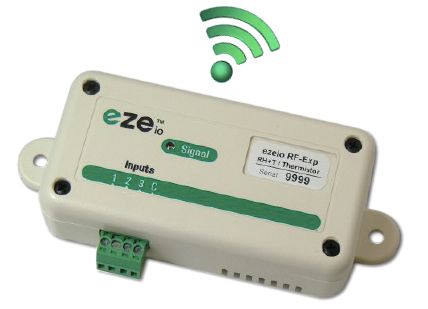 This product only works with our Generation 1 controllers
The battery-powered Wireless Sensor allows additional expandability with the ezeio Controller (NOTE: first generation units only).  Operating on standard AA batteries that can last up to 2 years, it has built in sensors for temperature, Relative Humidity and battery voltage, plus 3 external thermistor connections – a total of 6 data points in a small, easy to mount device.
Ideal for monitoring free-standing refrigeration units and any application where it isn't practical to wire sensors directly to the ezeio controller.
The integrated Temp/RH sensor can also be used to calculate dew point for anti-sweat heat control or air enthalpy for HVAC economizers.
FEATURES
Wireless connection to the ezeio controller
Built-in temperature and Relative Humidity sensor
Connection for up to 3 thermistor probes
Up to 100m range. Secure communications.
Up to 9 expanders per ezeio Controller
Runs on standard AA batteries for up to 2 years
Battery voltage monitor
Easy to mount, connect and configure
External radio link status LED