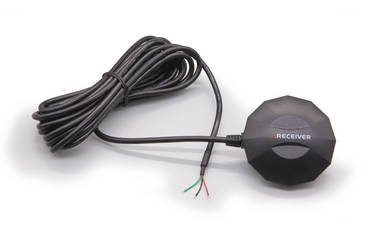 GPS receiver/antenna puck with serial communication.
Contains a magnet to keep it in place on any flat magnetic surface.
Excellent sensitivity and supports GPS and GLONASS networks for reliable positioning.
Connects to the ezeio SDI-12 port. Note that when used with this receiver, the SDI-12 port cannot be used for other devices at the same time.
Receiver type:72-channel 8030 engine,GPS & QZSS:L1 C/A,1575.42MHz, GLONASS L1OF, 1598.0625~1605.375MHz
Horizontal accuracy: down to 2.0m
Time to first fix (Cold/Warm start): 26s / 1.5s (50%, 130dBm)
Sensitivity : -148dBm (acquisition), -167dBm (tracking)
Protocol: NMRA 0183 @ 9600bps
53mm diameter, 22mm thick, 2m cable (can be extended)