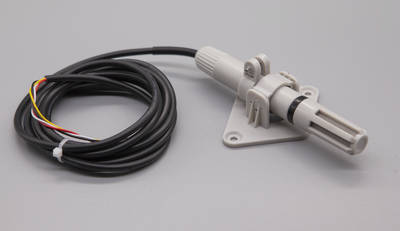 This versatile sensor measures air temperature and relative humidity with good accuracy and stability. It connects to the ezeio system through Modbus/RTU, allowing up to 40 of these sensors to be connected at the same time to a single ezeio.
The sensor comes with a mount that allows it to be used either on a wall or on a ventilation duct.
The Modbus address is easily configured with an internal DIP switch.
Specifications:
Default bitrate : 9600
Power supply : 9-30VDC
Temperature range : -20 to +80 °C
Temperature accuracy : 0.5 °C
Humidity range : 1-99%RH
Humidity accuracy : 3%RH
Cable length : 1.5m
Sensor size : L: 115mm D : 17mm