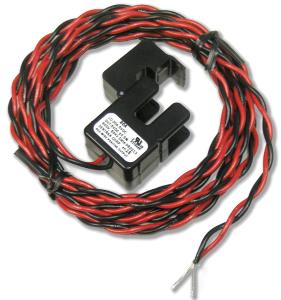 This small and easy to use split-core current transducer clamps around wires up to 7.5mm (0.3″) in diameter. The CT outputs a DC voltage that is linear to the AC current flowing through the wire.
This CT is ideal for monitoring if a load is on or off, runtime, or to detect if a light bulb is broken.
The wires from these CT's can be directly connected to the ezeio Controller's analog inputs, or to one of the inputs on an expansion unit. The standard model outputs 5VDC at 30A, but other sizes and current ratings can be special ordered. Please contact us for details.