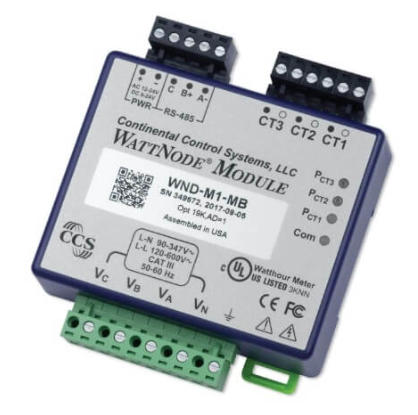 WattNode® Module Wattmeter for ModBus
The WattNode® Module ModBus Wattmeter is a kilowatt hour kWh energy and power meter that communicates with the ezeio controller over a RS-485 network.
The WattNode® uses external Current Transformers. Select the right size CT for your application, taking into account both the max current (Amp) and the diameter of the conductor.
Up to twenty (40) wattmeters can be connected to the same ezeio mkII Controller.
Download the full manual
The following measurements are made available to the ezeio *:
True RMS Power – Watts (Phase A, B, C, all phases)
Reactive Power – VARs (Phase A, B, C, all phases)
Power Factor (Phase A, B, C, all phases)
True RMS Energy – Watthours WH kWh (Phase A, B, C, all phases)
Reactive Energy – VAR-hours (All Phases)
AC Frequency
RMS Voltage (Phase A, B, C)
RMS Current (Phase A, B, C)
*) The ezeio limits the total number of inputs per system to 90.
Features
Support 1-phase, split-phase or 3-phase service
120-600VAC L-L
Can be powered from the ezeio
Small form factor for easy installation inside most electrical panels.
Pluggable screw terminals for easy wiring
0.5% accuracy nominal (see manual for details)
True RMS power even with leading or lagging power
factor and chopped or distorted waveforms
Measure variable speed drive pumps and motors
Safe CT's, producing 0.333 VAC at rated current.
Split core CTs for quick installation
Solid core CTs are less expensive and prevent tampering
Custom and standard Bus Bar sized CTs
UL, cUL Listed – Designed and tested for safety and use throughout North America.
 
® WattNode is a registered trademark of Continental Control Systems LLC